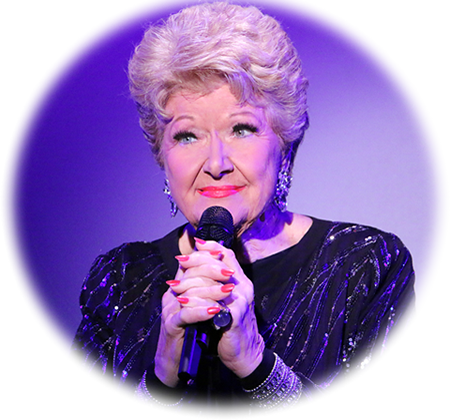 "Marilyn Maye has everything. She can belt, and she can sing ballads with the kind of warmth that makes your heart smile. She has a theatrical flair that captivates and enthralls, and jazz-spiced chops that can reach notes most singers a third her age can't even hit in their dreams. She's the real deal, the surviving artist of the American popular singer"
Rex Reed, New York Observer
Upcoming Performances
Rave Reviews
Johnny's message always loud and clear: "A great singer... she's so good, she's simply excellent... a super singer... that's the way to sing a song, she's a super singer... " And uttering words that many reviewers, including myself, have said over and over again: "If there are any young budding singers out there, get her records, listen to her... she understands the lyrics, she tells the story, she knows what it's all about."
- Sandi Durell, Theater Pizzazz, May 2014
In the opening-night performance of her new show, in which she jazzed up nearly 30 vintage show tunes, her singing was robust even for a woman of 50. Ms. Maye has the remarkable ability to transform upbeat sloganeering into rousing affirmation, infused with such certainty and sense of purpose that she can penetrate the armor and melt the heart of the most hardened cynics.
- Stephen Holden, New York Times, October 2013
Crisp and colorful as the autumn leaves that swirl above, this lady takes over the swanky basement under the old Studio 54 the way Grant took Richmond, bringing back some of the old razzle-dazzle that used to keep hip New Yorkers up all night. I call her just plain miraculous.. When she belts out "look at the old girl now, fellas" on Jerry Herman's title tune from Dolly, the audience goes seismic. Marilyn Maye is a happening kind of broad, in the best sense of the word. She's funny and imaginative, has the kind of warm rapport with an audience Judy Garland used to have and displays the kind of socko energy that used to be a Betty Hutton exclusive.
- Rex Reed, New York Observer, October 2013
Reviewers around the country have simply run out of adjectives to describe the marvelous Maye magic! Wherever she is, if you can get there by plane, train, bus or car, you must go see it for yourself! "She's at 54 Below in NYC for the next 2 weeks...get there as fast as you can!"
- Lynn DiMenna, Cabaret Scenes, October 2013
There's a certain phenomenon that occurs when Marilyn Maye takes the....She's got you from the moment she walks on a stage. She's funny and clever and she sang the great American songbook, or mainly swung it, in her own inimitable style.
- Sandi Durell, Theater Pizzazz, October 2013
Last Friday, I witnessed one of the greatest nightclub performances I've ever seen when singer Marilyn Maye took the stage at Catalina Jazz Club in Los Angeles. I've always loved her voice, but here I witnessed her mastery of an audience, her savvy and showmanship. My daughter saw Marilyn Maye for the first time last year in New York City when she sat in one night with Vince Giordano and his Nighthawks and damn near stopped the show. That's one more fan under the age of 30 and counting.
- Leonard Maltin, August 2013
Read more reviews here.
About Marilyn
In the years since Marilyn Maye first appeared in the spotlight as a tiny pre-teen vocalist in a series of amateur contests in Topeka, Kansas, she has received an endless stream of kudos. The late Johnny Carson called her "Super Singer." Ella Fitzgerald dubbed her "The greatest white female singer in the world." The Houston Chronicle termed her "A National Treasure." And the prestigious Smithsonian Institution chose her recording of "Too Late Now" (from her RCA Lamp Is Low album) for inclusion in its Best Performers of the Best Compositions of the 20th Century permanent collection, along with such other singing greats as Billie Holiday, Frank Sinatra and Judy Garland.
Read full Biography
Master Class Testimonials
Working with Marilyn was transformative. Not only is she the most fun to work with, she has more to teach than most, and knows how to get the best results. Her clear explanations, teamed with her brilliant demonstrations make for galvanizing sessions. What I am learning from her is invaluable!
- Maud Hixson, singer
Read more testmonials here.