"She has a terrific, ageless voice, and she scats on-point like few of today's so-called jazz singers. She knocks song after song out of the ball park and scores."
John Hoglund, Theater Scene
Marilyn Maye RCA Recordings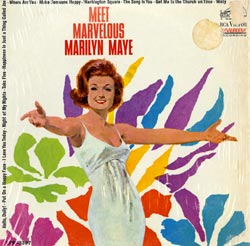 Meet Marvelous Marilyn Maye
(Stereo LSP-3397)
Marilyn's first RCA album was recorded in New York's Webster Hall in 1965. It was produced by Joe Rene and featured arrangements by both Don Costa and Manny Albam. Not surprisingly Steve Allen authored the album notes, which ended with Allen penning "All in all, this is probably the best damned vocal album of 1965--so there."
• Get Me To The Church On Time
• Misty
• Washington Square
• Happiness Is A Thing Called Joe
• I Love You Today
• Hello Dolly
• Take Five
• Where Are You
• Night Of My Nights
• Put On A Happy Face
• Make Someone Happy
• The Song Is You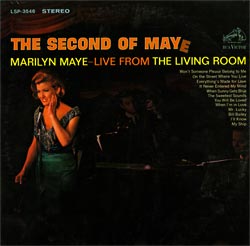 The Second of Maye
(Stereo LSP-3546)
This album marked the second collaboration of Marilyn and Joe Rene. It was recorded live at The Living Room, a then-famous New York nightclub, and released in 1966. Joining Marilyn was The Sammy Tucker Quintet featuring Sammy Tucker, her husband at the time, on the piano. The album notes were penned by Skitch Henderson, then-musical director for The Tonight Show.
• The Sweetest Sounds
• It Never Entered My Mind
• Mr. Lucky
• I'll Know
• When Sunny Gets Blue
• On The Street Where You Lived
• Bill Bailey
• My Ship
• When I'm In Love
• You Will Be Loved
• Won't Someone Please Belong To Me
• Everthing's Made For Love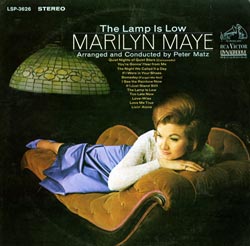 The Lamp is Low
(Stereo LSP-3626)
Marilyn's third album was again produced by Joe Rene at Webster Hall in NYC. However, unlike the two previous albums, this 1966 outing featured a full symphony and the lush ballad arrangements of Peter Matz, who also conducted the orchestra on what are still considered to be Marilyn's finest recordings.
• Quiet Nights Of Quiet Stars
• You're Gonna Hear From Me
• The Night We Called It A Day
• If I Were In Your Shoes
• Someday
• I See The Rainbow Now
• If I Just Stand Still
• The Lamp Is Low
• Too Late Now
• Love-Wise
• Love Me True
• Livin' Alone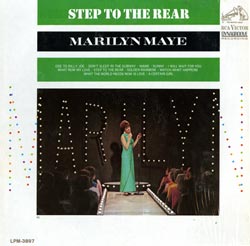 Step to the Rear
(Stereo LSP-3897)
In 1967, Marilyn and Joe Rene stepped into RCA's Studios A and B in New York City to produce this album which featured arrangements by Jimmy Wisner and Don Sebesky, both of whom took turns conducting the studio orchestra. The title song, "Step to the Rear," from the short-lived Elmer Bernstein/ Carolyn Leigh Broadway musical "How Now, Dow Jones," became the Lincoln-Mercury theme song and lead to Marilyn becoming the car-maker's singing spokeswoman for the next four years.
• Ode To Billy Joe
• Don't Sleep In The Subway
• Mame
• Sunny
• I Will Wait For You
• What Now My Love
• Step To The Rear
• Golden Rainbow
• Watch What Happens
• What The World Needs Now
• A Certain Girl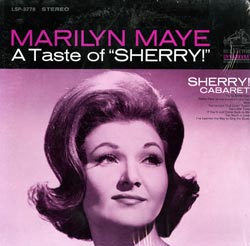 A Taste of Sherry
(Stereo LSP-3778)
Again joining forces, Marilyn and Joe Rene collaborated on this second 1967 album, which was produced at Webster Hall and RCA's Studio A in New York City. The album featured arrangements by Jimmy Wisner, Claus Ogerman, Marty Manning and Sid Bass, all of whom also shared the conducting. Mickey Crofford, who had been the recording engineer on all of Marilyn's previous albums, was joined by Ed Begley.
• Sherry
• Cabaret
• Try To Remember
• A Time To Love A Time To Cry
• Java
• You've Lost That Lovin' Feelin
• Too Little Time
• If You'll Just Come Back To Me
• Too Much In Love
• I've Learned The Way To Sing The Blues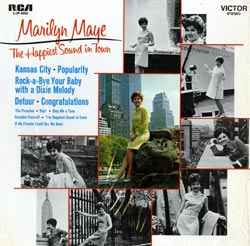 The Happiest Sound in Town
(Stereo LSP-4054)
Returning to RCA's Studio A and B the following year (1968), Marilyn and Joe Rene again collaborated on this album, with Rene not only producing it but also arranging and conducting several of the recordings, along with Glenn Osser and Frank Hunter. The album notes bore only one line: "Let's Call Her Super-Singer." It was signed by Johnny Carson.
• Congratulations
• Sing Me A Tune
• Rock-a-Bye Your Baby With A Dixie Melody
• The Happiest Sound In Town
• If My Friends Could See Me Now
• Kansas City
• Popularity
• Detour
• The Preacher
• Consider Yourself
• Star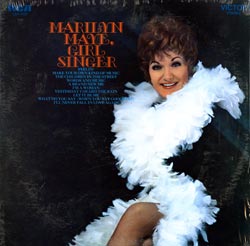 Marilyn Maye, Girl Singer
(Stereo LSP-4299)
Produced in 1970 by Joe Rene and Jim Foglesong, this was Marilyn's last album for RCA. It was again recorded in the company's New York Studios A and B and featured arrangements by Ray Ellis, Marty Manning, Sammy Lowe, Nick Perito and Don Sebesky.
• I'm A Woman
• The Children In The Street
• Make Your Own Kind Of Music
• What Do You Say
• Yesterday I Heard The Rain
• Feelin' I Need You
• Words And Music
• Let It Be Me
• A Brand New Me
• I'll Never Fall In Love Again